"Just think,  that man can claim a slice of the sun."  Louis Kahn – Architect
YOUR STARTING POINT: Natural Light is the starting point for all architectural and building projects. Like cats, we gravitate towards light and thrive in its presence. Strive to maximise natural light in the way you design your home.
SUNLIGHT: Cherish sunlight in all its forms, from morning sun in the East to evening sun in the West. Get to know how the sun moves around your house and the orientation of each room, This will allow you to harness the sunlight you get in your home to maximum effect. You should use the movement of the sun about your house to help you decide how each room is going to be used.
ORIENTATION: In East facing rooms, the light feels "warm" in the morning and "cold" in the evening. The reverse is true of West facing rooms. North facing rooms may feel cold and uninviting by comparison with the sunlit rooms in your house. They require special attention – like careful choice of wall colour – to deal with this.
BALANCED LIGHT: Where a room is lit from more than one side, a beautiful balance of light may result.
SKYLIGHTS: Light from above, that is from roof-lights, is powerful and transforming. It gives an even, consistent daylight. Roof-lights are, in fact, at least three times more effective than regular windows. As a rule of thumb, natural light can penetrate to a depth of 5 metres into a room. This is why it is a good idea to add skylights to an extension to the rear of your house.
REFLECTED LIGHT: Sunlight may also be reflected unexpectedly into a room, when for example, it  bounces off the window panes of neighbouring buildings.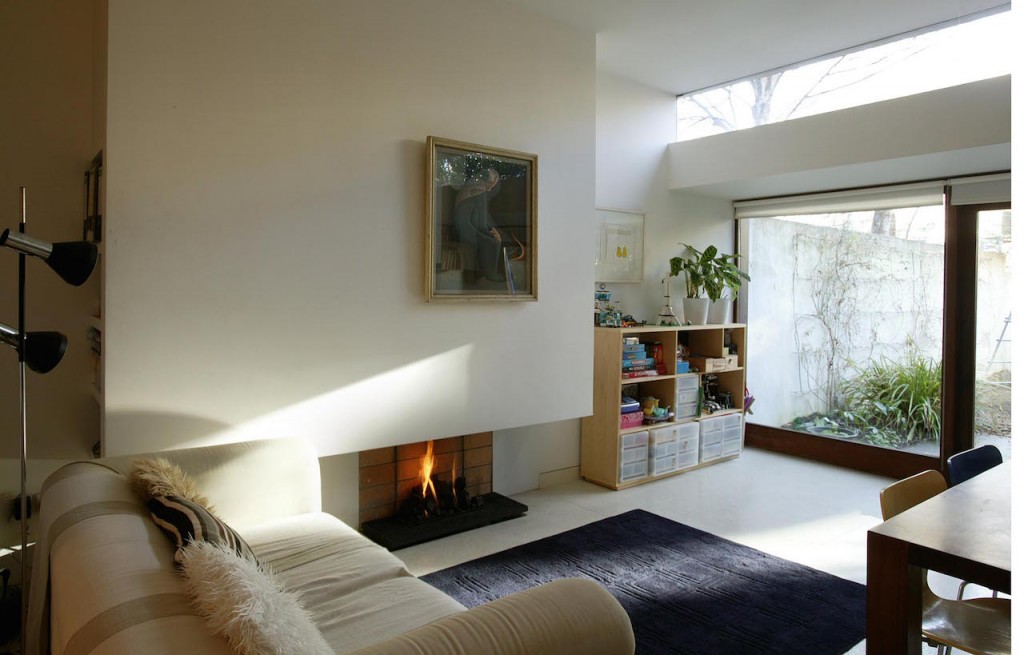 ROOM LAYOUT: Assess your furniture layouts. Keeping furniture away from windows, or placing smaller pieces at windows, will enhance the flow of both space and of light.
WINDOWS: Review your windows and window dressing. Painting window frames a light colour internally will increase the amount of reflected light. Keep window dressings light in both colour and feel.
INTERIOR DECOR: Assess your colour scheme including all furniture and all finishes and  all accessories, not just walls. Don't be afraid to paint natural timber. A painted timber stairs or ceiling can enhance the light levels in a home significantly. Carefully placed mirrors can reflect both light and sunlight.
ROOF-LIGHTS: Explore the possibility of fitting roof-lights in the ceiling. This will be possible only where the room is directly beneath the roof. If the orientation of your house allows, a roof-light can transform a dark room still further by allowing direct sunlight – not just light – in also. Specify the highest level of thermal performance possible in terms of glazing to prevent the roof-light becoming a source of concentrated heat loss. There is now a Velux roof-light suitable for flat roofs also.
OPEN UP: Balance the flow of light in the house, where space and other considerations allow, by opening up between the front and rear rooms. This will allow, for example, a North facing rear-room to benefit from the daytime sun in the front room. Double doors between the two rooms will allow each room be used separately when required. Pocket sliding doors work well here. Solid doors, or doors with opaque glass, will provide visual and acoustic privacy for each room when the doors are closed.
GO UP: Explore whether some day time uses, for example a home office or den, might be facilitated at first floor level. Spaces at an upper level will be naturally brighter all year round. This can be especially welcome in Winter when daylight levels are low.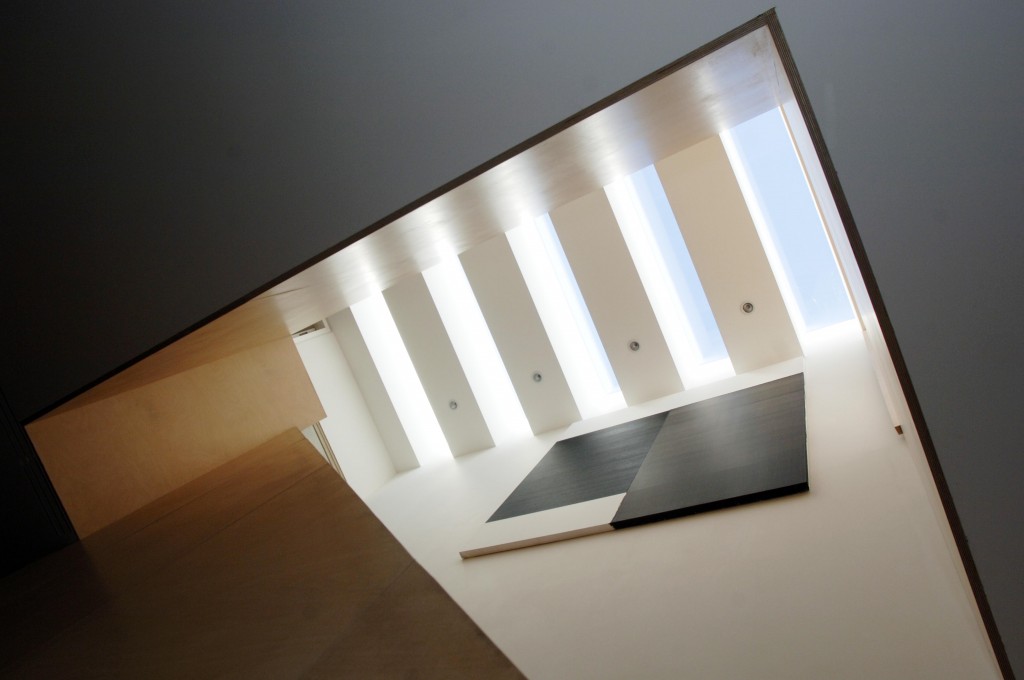 ROOM LAYOUTS: Our mews house is open-plan for most of the ground floor. The sitting room is at the front of the house, looking onto a south facing, private courtyard. The kitchen/dining/family room overlooks the north facing garden to the rear. Furniture is kept well away from the windows to allow the whole space enjoy maximum light.
WINDOWS: Our house is a mews house so there are no privacy issues to be dealt with, either to the back or the front. This allows us to have full width, glass screens to each end of the open-plan room on the ground floor. A large roof-light over the stairs floods the stairs, landing and centre of the ground floor with light. This means that there is light in the middle of the open-plan ground floor, where we have a large dining/study area.
INTERIOR DECOR: The white terrazzo floor is a key element of our campaign to maximise natural light. Whilst this might seem impractical for a family of four with a dog, it is, in fact, easily cleaned and maintained. White walls, white blinds, white chairs, removable cream sofa covers were chosen with light reflection in mind also. Rugs, cushions and art lend colour and texture
OPEN UP: Tall, sliding screens allow us to separate the front living area from the back kitchen/dining/family areas. When the screens are open, there is light from each end of the house. When they are closed, each area can be used separately but still enjoys light and a view to an outside space.
REFLECTED LIGHT: Winter sun reflects off the windows of the Victorian houses at the end of the back garden. This brings unexpected shafts of sunlight into the north facing room at ground floor level.
GO UP: A TV Room/Den on the first floor looks onto a south-facing terrace. This room is bright all year round. It is also completely separate form the open plan ground floor open-plan space.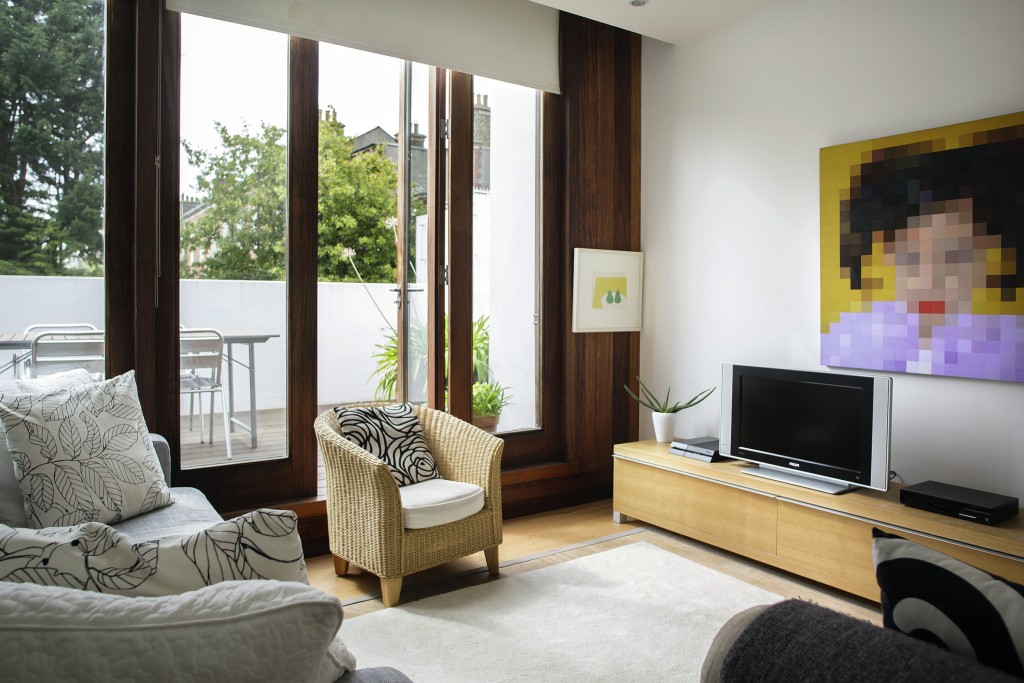 5 Articles by houseology on Houzz about How to Maximise Natural Light…
Do you need advice about how to maximise natural light in your house?
Contact Eva at 087 2940805 or info@houseology.ie to arrange your House Consultation today.