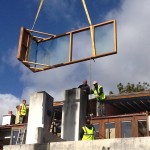 EXTEND
Do you need more space but don't know where to begin? Or are you unsure whether you need an extension or not?
€499 | 2.5 hours
In the course of a 2 1/2 hour EXTEND House Consultation, we can explore how best to extend your home, including issues such as…
Organisation and use of your existing rooms. Are they working hard enough?
Relationship between the existing rooms and your proposed extension. How will they flow?
Relationship between the proposed extension and your garden.
Where best to locate your extension bearing in mind your external space and the movement of the sun.
The optimum size and layout of your extension.
How to make the most of natural light.
Finishes for your extension in terms of floors, windows and roof.
Storage solutions for your extension and your existing home.
Kitchen location and layout.
The EXTEND Home Package includes:
Measured survey of the part of the house to be extended.
Scaled, freehand sketch of the existing floor plan.
Scaled, freehand sketches of extension layout options and related alterations to the existing house.
Advice about planning and other relevant regulations.
Any relevant written notes including guidance on how to carry the project forward, sufficient information to get "ballpark" estimates from a Contractor and contact details for Contractors & Suppliers.
All completed in the course of the 2 1/2 hour consultation.
EXTEND clients say…
"It was great meeting with you last week. The idea you gave us for the kitchen and family area exactly fit what we need at the moment. It was very good also to get another opinion on an upstairs extension and to focus on what our priorities are rather than doing unnecessary work. The tips for the rest of the house were a bonus for getting the most out of our existing house. I think your service is very useful and am definitely going to recommend you to my friends."  Emer, Maynooth